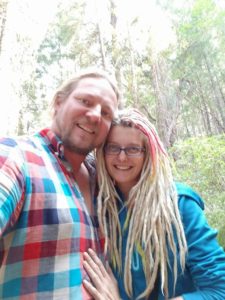 Liza currently resides in Ashland, Oregon, but spends most of her time in the Applegate Valley with her artist and entrepreneur  Fiancé, Johan Ziems –  www.artbyjohan.com – You can find her artwork and felting kits for sale at the Ashland Art Center & Shepherds Dream in Ashland, Oregon, Wild Rivers Wool Factory in Langlois, Oregon, or on her online Etsy store, Wooliza Fiber Arts.
"Johan and I take every opportunity to travel, explore, and adventure, with lots of studio creative time mixed in. We also love organic gardening, solar & off grid living, mushroom hunting, hiking, boating on Applegate Lake, skiing, and relaxing by the fireside.
We have a sweet calico kitty who lives in the Applegate with us, Pumpkin, and of course little Messi, our Corgi dog.  Johan loves constructing unique shelters and buildings on our land, and we now have cabins and more available to rent on AirBnB and Hipcamp!"
You can follow my art page on Instagram @wooliza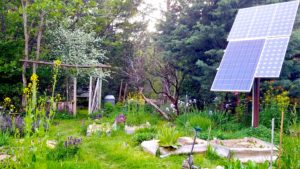 Johan is @johanthedomeguy
Our creekside paradise is @applegatehaven
Commissions
I am no longer accepting commissions for pet sculptures or portraits, but I am open to creating unique/fantasy/mythological creatures! Contact me with any questions or ideas.
The best way to reach Liza is by Email: woolizafiberarts@gmail.com